Hi guys,
It is with a heavy heart that I bring this issue to the light of day, but necessarily so.
It occurs to me that whenever a player attempts to join the forums they're met with a captcha. Specifically, this captcha: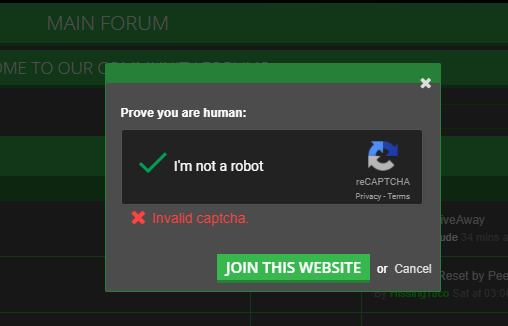 While I totally appreciate that this is Enjin's doing and not the fault of your amazing selves, I still believe that as players of this great server it is our obligation, nay, our duty to combat these discriminatory practices wherever we see them. In this case, I have one major quarrel with this process and DON'T WORRY I have a pretty well thought out solution
The captcha doesn't allow robots to join the server. This rule is obviously in place to stop advertising bots and the like from laying waste to the forums but it groups all robots together. Now, there are certainly many robots that are malicious but there are just as many who want to come on the forums, make a suggestion and maybe just chill (See examples: WALL-E, Baymax). Who are we to stop our kindhearted mechanical friends from joining us? More donations, more players, more equality.
We wouldn't allow racism or sexism, so why should we allow mechano-robotism? This is almost 2018 and we need a future that treats all website traffic with respect.
The solution? We ditch Enjin and create our own, independant site. Instead of fighting malicious bots we create a forum just for them so that they no longer feel isolated and hated by humans. Over time, they too will realise that if they just give up their evil ways they will be loved by us all.
Thanks for all your continued support, it's been insane and I appreciate every single one of you beautiful people.
Thanks <3
lifedeather